Implementing the Arboretum Loop Trail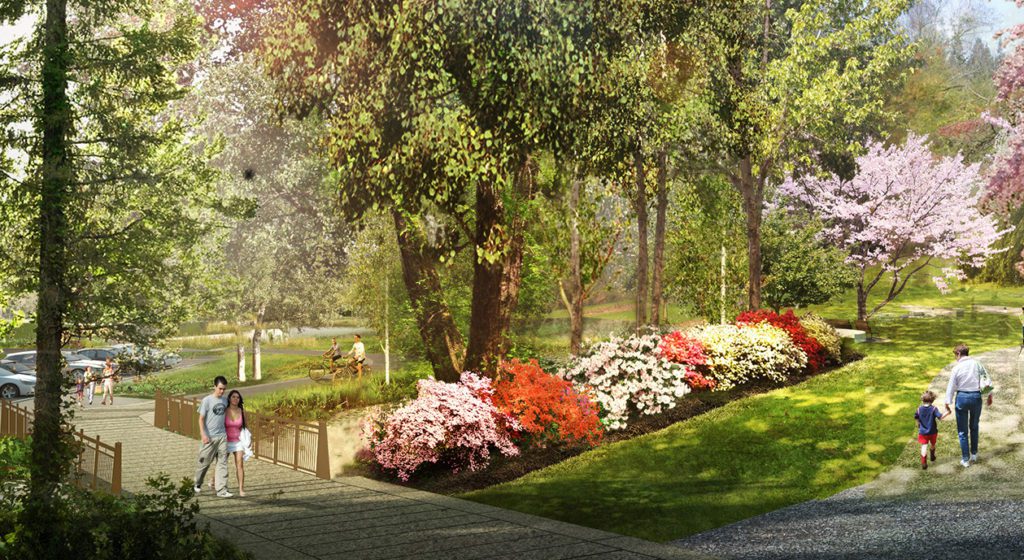 Washington Park Arboretum is undergoing one of the largest capital construction projects in decades. The project is shown in the arboretum's master plan as a simple squiggly line paralleling Lake Washington Boulevard with text reading: "Multi-use trail – A safer route for recreational bike users." Despite this unassuming illustration, implementation is anything but simple. The trail negotiates important plant collections, seven environmentally critical areas, historic structures and landscapes, and aging infrastructure. In the end, this singular project achieves ten distinct goals stated in the master plan: increasing visitors and educational opportunities, enhancing the ecological function of Arboretum Creek, providing better east-west connections, and improving accessibility, to name a few.
To mitigate impacts to the Arboretum caused by the new SR 520 floating bridge, WSDOT provided funding for Phase 1. This phase, anticipated to open in 2016, includes 1.5 miles of paved trail, an expanded and improved Birch parking lot, three pedestrian bridges, benches, improved access to the Graham Visitors Center, signage and wayfinding. A loop connection will link Arboretum Drive to the trail at the drive's northern and southern termini. A future phase will connect the trail to the University of Washington. When fully implemented, the multi-use trail will travel for two miles along the east side of Lake Washington Boulevard connecting cyclists and pedestrians to and from the UW campus, Montlake and University neighborhoods, and the eastside with a regional link to Redmond.
Arboretum Creek will benefit by removing three earthen berm culverts and reworking the channel to return portions of the creek to its original character. Trees removed for trail construction will be placed to provide habitat and stabilization for the new creek channel. Rain gardens in the expanded Birch parking lot will filter and slow stormwater runoff into the creek. Along Lake Washington Boulevard, rechanneling three catch basins into biofiltration swales will treat water before it enters the creek and reduce the perennial closure of the boulevard to clear leaves and debris from the basins.
The project maintains the character of the historic landscapes of Lake Washington Boulevard and Azalea Way, designed by the Olmsted Brothers in 1903 and 1936, and honors the original Olmsted design intent by controlling views and preserving mature trees and vegetation.